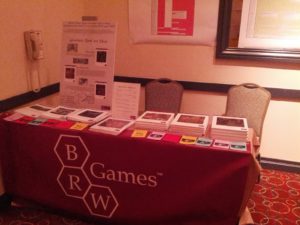 Hey all!
Starting next year, we're expanding our convention presence throughout the northeast, and will be including a greatly expanded number of select offerings from third-party publishers as well.
So far, here's the (tentative) schedule of our appearances. Naturally, subject to change; this post will be kept updated as conventions are changed, removed, or added.
February 18-26, Morristown, NJ. Dreamation.
March 3-6, Lake Geneva, WI. GaryCon.
April 17-19, Trevose, PA. Philly Games Con.
June 29 – July 3, Morristown, NJ. Dexcon.
August 5-7, Hunt Valley, MD. Shore Leave.
November 11-13, Scranton, PA. Mepacon.
November 18-20, Cherry Hill, NJ. Philcon.
See you there!